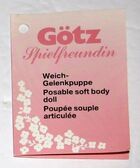 The goal of this article is twofold: to identify the different Gotz Play Doll Hang Tags/ID Tags used, and narrow down the years they were in production to and from in order to help Collectors narrow down the years their doll could have been produced. Some doll tag styles were used for numerous years; others with minor variations for only a few and some only for one year. To achieve this goal, only identified dolls with verifiable years of production (in older dolls, best guesstimates or time frames) wlll be entered. In some cases, pairing a Gotz Doll Hang Tag/ID Tag combined with its original clothing tag will help in this process (as clothing tag timelines can also help narrow down when a doll could have possibly been produced).
Pre-1987 Play Doll ID Tag
This vintage GOTZ tag features a white oval background; orange hearts, and pink inside background. It states the Doll Classification in English and French, and contains the country of production. Notice the red elastic band wrist bracelet.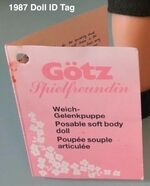 1987 Play Doll ID Tag
This pink tag features the words "Gotz Spielfreundin" across the top with white flowers down the left bottom corner. Words are written in three languages: German; English and French. The doll ID bracelet securing it to the wrist of the doll would have been a red elastic band.
1989 Play Doll ID Tag
This white tag features the Gotz logo encircled with hearts. This doll states it was specifically made in Spain. Notice the elastic band is now brown.
1993 Play Doll ID Tag
This white tag features a red and blue border, designed specifically for its specialized production and distribution within the United States. The inside features a solid pink oval with the Gotz logo inside. The doll ID bracelet is a brown elastic band.
1995 Play Doll ID Tag
This Gotz Handcrafted Play Doll has a circular white booklet tag with solid, pink, oval Gotz logo; this tag also contains the catalog number; the doll's height in cm; the German Classification Name; the name of the Doll; and in this case, that it is Limited Edition. A barcode completes the tag. This is why these tags are called "Doll ID Tags;" they contain important cataloguing and identifying information.
1996 Play Doll ID Tag
This Gotz Play Doll's tag includes all of the 1995 information with simple layout changes.
Community content is available under
CC-BY-SA
unless otherwise noted.